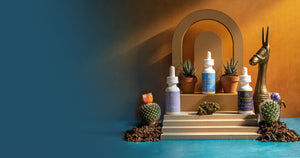 Artisanal and affordable
CBD products
Crafted by Award Winning Growers
Originally known as pioneers of high-quality organically grown hemp flower, we have taken our passion and attention to detail to create a full line of artisanal and affordable cannabinoid-based products.
RISK FREE
Money Back Guarantee
We are so confident you'll be satisfied with your order that we offer a 14-day money back guarantee on all sales. If any of our products fail to meet your expectations, send it back to us for a full refund.
Fast & Discreet
Free Shipping
Free Shipping on orders over $75 within the U.S.A.
Awards & Press
Ethan takes great pride and is passionate about every aspect of the hemp plant and CBD medication.
I am 84 years old and I have chronic inflammation and common aches and pains. I have been using Mission Lago Farms' tincture at night for a few months...Can't explain it in words how the product has improved my quality of life.
Ethan is a pioneer in the CBD flower industry. His growing and harvest processes are second to none.
About us
Our Story
As honest ambassadors and conscious curators ‌in our industry, we strive to offer sustainable, responsibly grown formulated products to those looking for a healthier lifestyle.